Golf The Way It Was Meant To Be Played
Rated 4 1/2 Stars by Golf Digest, Los Robles Greens Golf Course's par-70, 6,300-yard championship layout was designed by golf course architect William F. Bell in the old style, leaving the terrain completely natural. Towering oaks frame pristine rolling fairways and undulating greens, with beautiful water features, unique bunkering and panoramic mountain views creating both strategic diversity and a stunning backdrop for golf. Known for its outstanding conditioning and playability, the course offers multiple tees on each hole, enabling golfers of all ages and abilities an opportunity to enjoy this spectacular Conejo Valley golf gem.
Complementing the golf course is an array of upscale amenities including an eight-acre golf practice facility; a world-class golf shop; and a gorgeous 22,000 square-foot clubhouse featuring delicious casual dining and a variety of indoor and outdoor event venues.
To book a tee time, click here. To learn more about golf instructional programs, golf tournaments or special events, or to explore Los Robles Greens' attractively-priced frequent player programs, please call (805) 495-6421.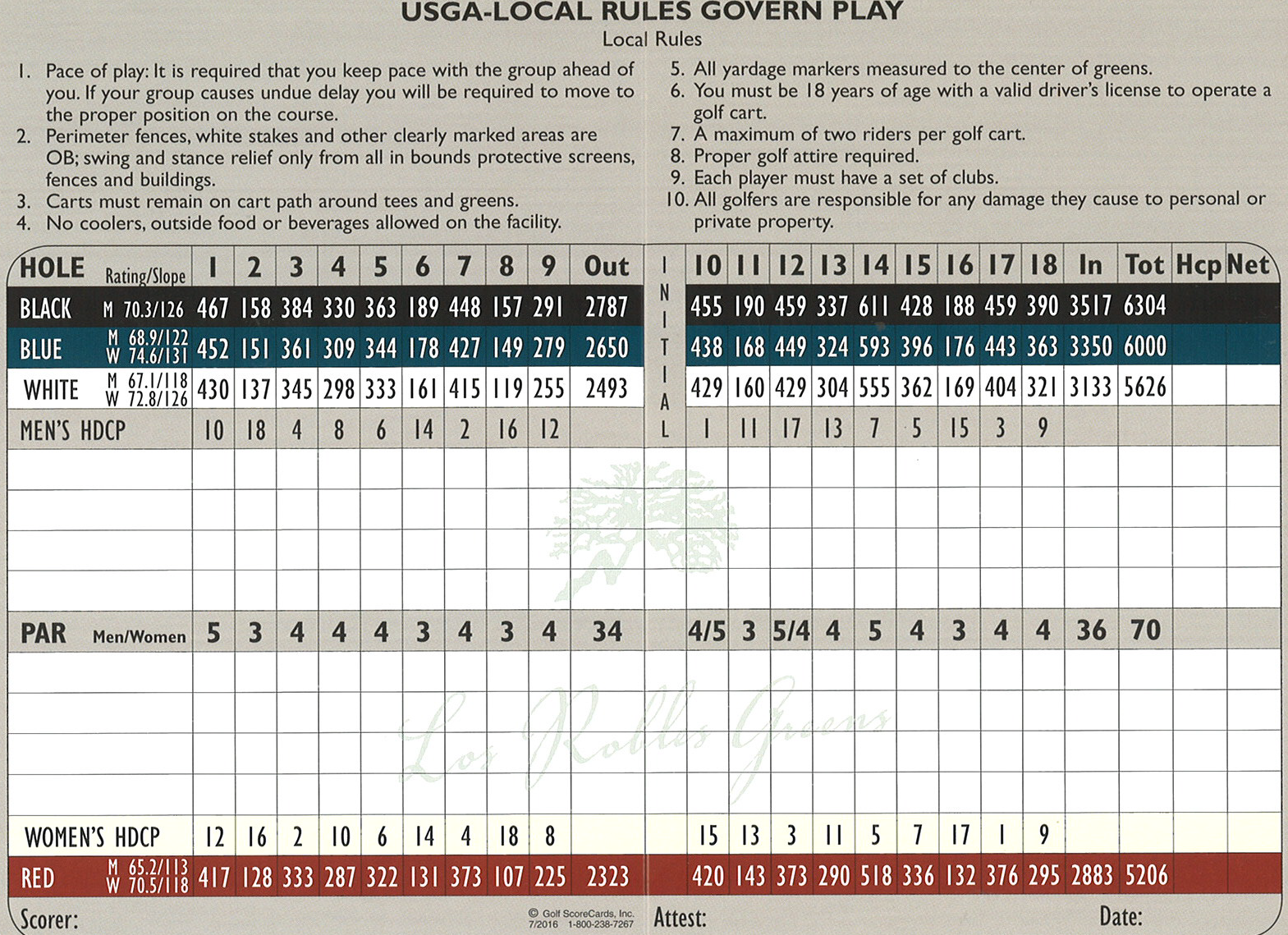 Walkthrough
Our 18 Hole Course
| | |
| --- | --- |
| Black | 467 |
| Blue | 452 |
| White | 430 |
| Men's Handicap | 10 |
| Par | 5 |
| Women's Handicap | 12 |
| Red | 417 |
| | |
| --- | --- |
| Black | 158 |
| Blue | 151 |
| White | 137 |
| Men's Handicap | 18 |
| Par | 3 |
| Women's Handicap | 16 |
| Red | 128 |
| | |
| --- | --- |
| Black | 384 |
| Blue | 361 |
| White | 345 |
| Men's Handicap | 4 |
| Par | 4 |
| Women's Handicap | 2 |
| Red | 333 |
| | |
| --- | --- |
| Black | 330 |
| Blue | 309 |
| White | 298 |
| Men's Handicap | 8 |
| Par | 4 |
| Women's Handicap | 10 |
| Red | 287 |
| | |
| --- | --- |
| Black | 363 |
| Blue | 344 |
| White | 333 |
| Men's Handicap | 6 |
| Par | 4 |
| Women's Handicap | 6 |
| Red | 322 |
| | |
| --- | --- |
| Black | 189 |
| Blue | 178 |
| White | 161 |
| Men's Handicap | 14 |
| Par | 3 |
| Women's Handicap | 14 |
| Red | 131 |
| | |
| --- | --- |
| Black | 448 |
| Blue | 427 |
| White | 415 |
| Men's Handicap | 2 |
| Par | 4 |
| Women's Handicap | 4 |
| Red | 373 |
| | |
| --- | --- |
| Black | 157 |
| Blue | 149 |
| White | 119 |
| Men's Handicap | 16 |
| Par | 3 |
| Women's Handicap | 18 |
| Red | 107 |
| | |
| --- | --- |
| Black | 291 |
| Blue | 279 |
| White | 255 |
| Men's Handicap | 12 |
| Par | 4 |
| Women's Handicap | 8 |
| Red | 225 |
| | |
| --- | --- |
| Black | 455 |
| Blue | 438 |
| White | 429 |
| Men's Handicap | 1 |
| Par | 4/5 |
| Women's Handicap | 15 |
| Red | 420 |
| | |
| --- | --- |
| Black | 190 |
| Blue | 168 |
| White | 160 |
| Men's Handicap | 11 |
| Par | 3 |
| Women's Handicap | 13 |
| Red | 143 |
| | |
| --- | --- |
| Black | 459 |
| Blue | 449 |
| White | 429 |
| Men's Handicap | 17 |
| Par | 5/4 |
| Women's Handicap | 3 |
| Red | 373 |
| | |
| --- | --- |
| Black | 337 |
| Blue | 324 |
| White | 304 |
| Men's Handicap | 13 |
| Par | 4 |
| Women's Handicap | 11 |
| Red | 290 |
| | |
| --- | --- |
| Black | 611 |
| Blue | 593 |
| White | 555 |
| Men's Handicap | 7 |
| Par | 5 |
| Women's Handicap | 5 |
| Red | 518 |
| | |
| --- | --- |
| Black | 428 |
| Blue | 396 |
| White | 362 |
| Men's Handicap | 5 |
| Par | 4 |
| Women's Handicap | 7 |
| Red | 336 |
| | |
| --- | --- |
| Black | 188 |
| Blue | 176 |
| White | 169 |
| Men's Handicap | 15 |
| Par | 3 |
| Women's Handicap | 17 |
| Red | 132 |
| | |
| --- | --- |
| Black | 459 |
| Blue | 443 |
| White | 404 |
| Men's Handicap | 3 |
| Par | 4 |
| Women's Handicap | 1 |
| Red | 376 |
| | |
| --- | --- |
| Black | 390 |
| Blue | 363 |
| White | 321 |
| Men's Handicap | 9 |
| Par | 4 |
| Women's Handicap | 9 |
| Red | 295 |